The mission of the SightFirst programme is to develop or improve comprehensive eye care systems to combat blindness and visual impairment and to help blind and visually impaired people in disadvantaged areas.
LIONS SightFirst Action « GOOD VISION FOR SAFE DRIVING »

To mark World Sight Day on October 12, 2023, LIONS INTERNATIONAL District 113 Luxembourg has launched an awareness campaign entitled "GOOD SIGHT FOR SAFE DRIVING", in partnership with the Association Sécurité Routière Luxembourg and the Automobile Club du Luxembourg (ACL).
During their 2023 Lighting and Tire Campaign, flyers will be distributed at checkpoints by members of the Lions Clubs whose SightFirst program puts Sight first. Launched in 1990, the program engages Lions around the world in screening and improving the independence, education, mobility and safety of visually impaired and blind people.
Lions give priority to actions that promote visual well-being and safe vision control at all ages, so important to our ultra-mobile society.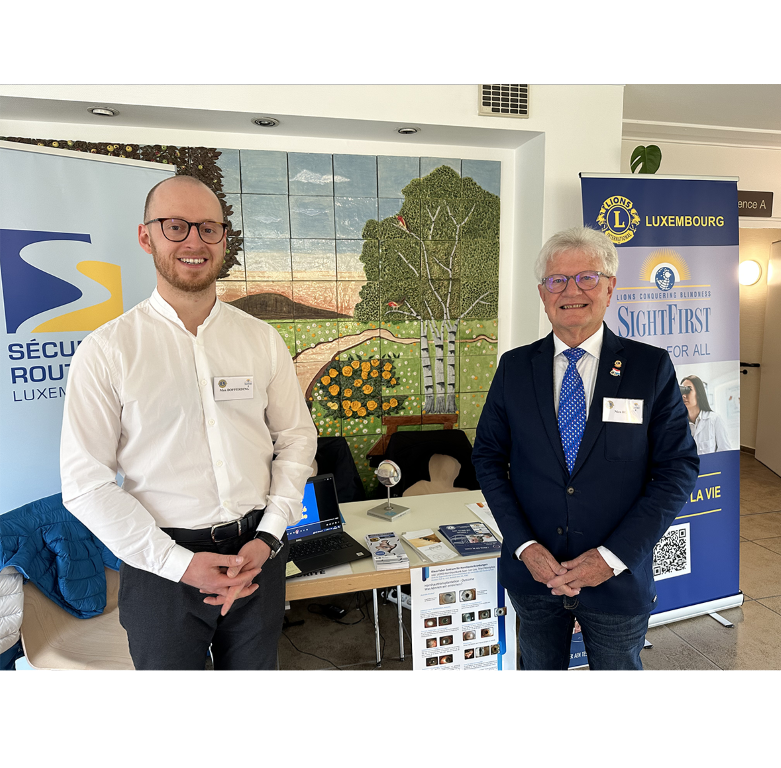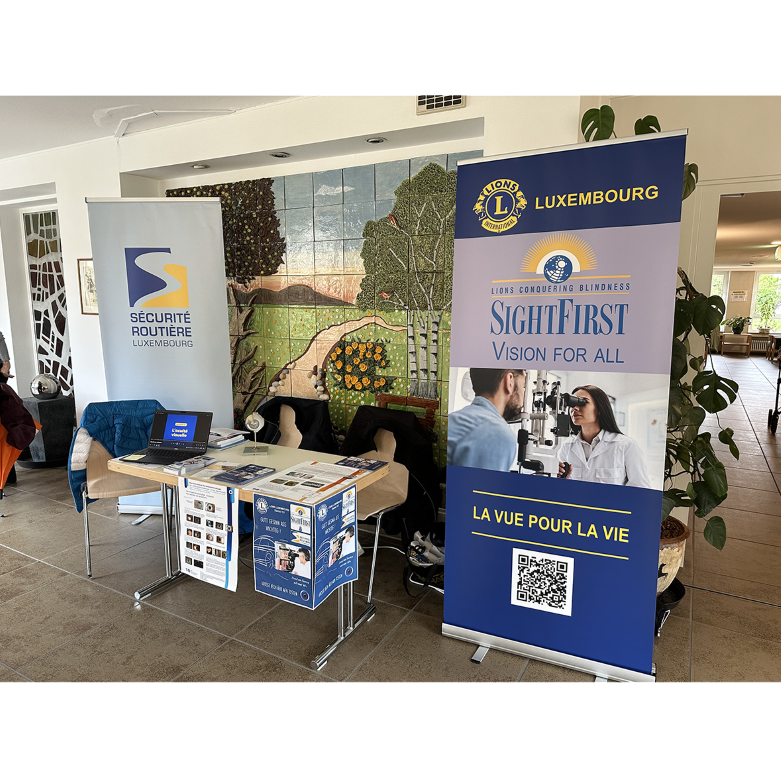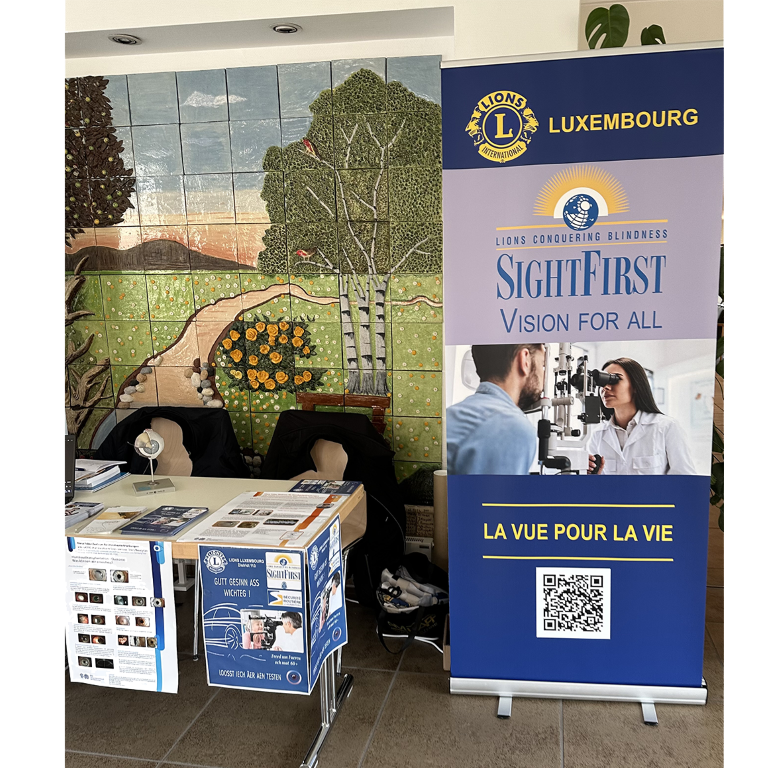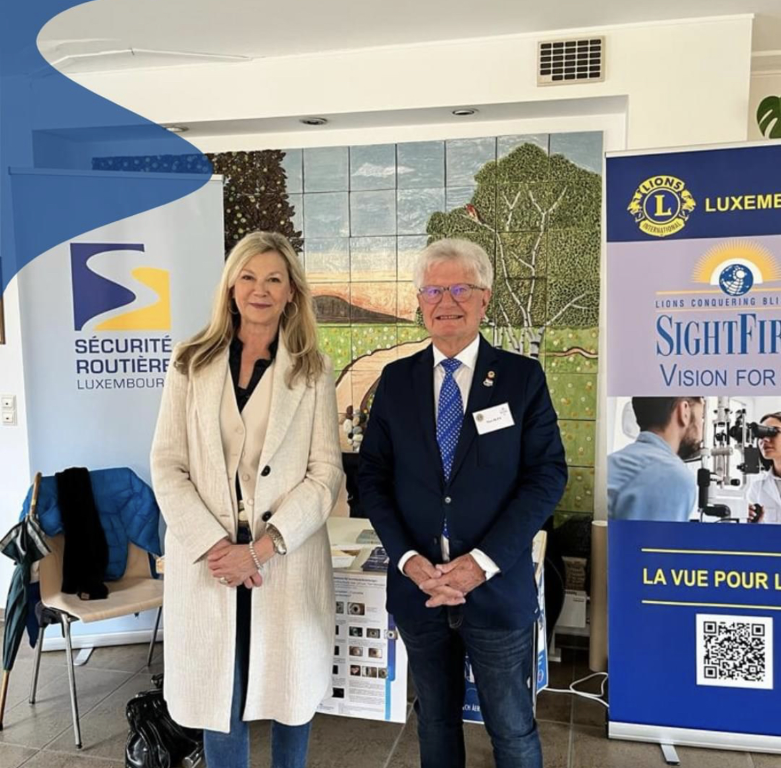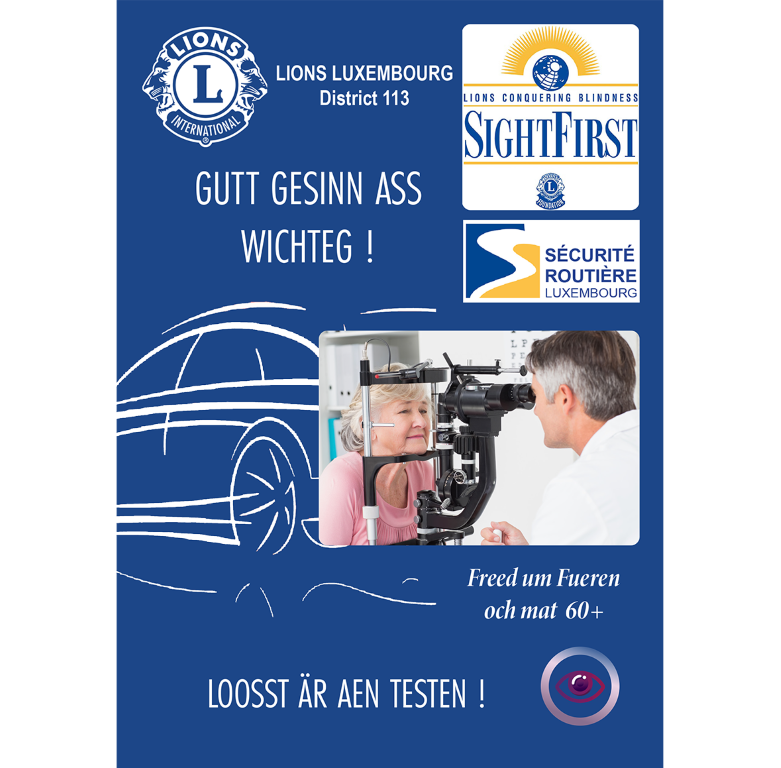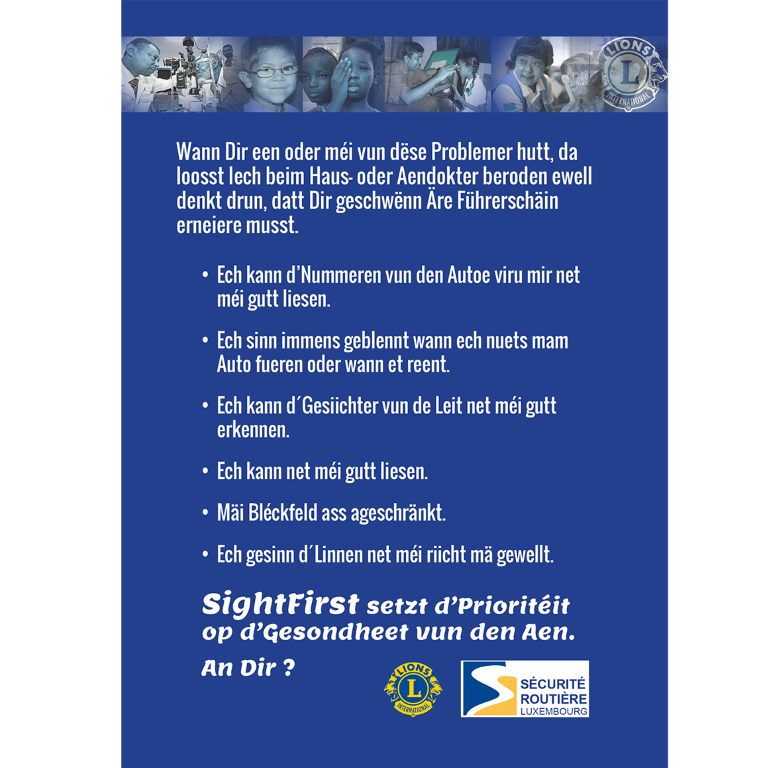 Sécurité Routière and Lions SightFirst Launch Joint Action
Within the framework of the 60+ Day on May 12, 2023 at the Konviktsgaart in Luxembourg-City, La Sécurité Routière and Lions SightFirst have launched a joint action to raise awareness of the need for regular sight checks while driving, as well as an appeal for cornea donations under the motto "SIGHT FOR LIFE"
Intelligent equipment for the visually impaired and blind.
The Lions Clubs of Luxembourg are proud to present RANGO, the Electronic White Cane for the blind, designed by GoSense, a committed company renowned for its social action and solidarity.
In response to Helen KELLER's appeal in 1925, Lions Clubs have made support for the blind and visually impaired a worldwide priority. The SightFirst program, launched in 1990, aims to preserve and restore sight, and promote eye care worldwide.
It continually adapts to new requirements, technological advances and assistive devices dedicated to blind people.
Today, RANGO, designed by GoSense, is perfectly in line with this heritage, offering an innovative, reliable and easy-to-use solution to improve mobility for blind and severely visually impaired people.
Following conclusive tests and positive feedback from specialists at the International White Cane Day last October at the Luxembourg train station, organized jointly by our District and the Lions of the twinned District of Ile-de-France Paris, a national campaign has been launched to equip blind people in Luxembourg with RANGO. This device combines electronic obstacle detection technologies with a mobile application and external earphones, providing better orientation, safety and assistance for blind people on their daily journeys. Having proved its effectiveness in neighboring countries, RANGO restores autonomy and self-confidence to its users. In addition to obstacle detection, the application provides information on location, intersections, street names and numbers, and public transport timetables.
Thanks to 3D sound feedback, users can intuitively grasp their surroundings and remain attentive to external elements.
We are appealing for donations to be sent via our Lions Foundation to
CCPLLULL LU68 1111 7048 0503 0000 with the mention "SightFirst Fund".
SIGHTFIRST LIONS ACTION SIGHT FOR ALL
Since Helen Keller's call to Lions in 1925, we have been working for the blind and visually impaired. Nearly a century later, this mission is as central to our work as ever.
Since its inception in 1990, the SightFirst programme has restored sight to over 30 million people worldwide.
Despite the extraordinary success of Campaign SightFirst, there is still much to be done. Although the number of people suffering from contagious eye diseases has fallen sharply over the past 20 years, the rapid increase in life expectancy and the growing prevalence of sight-threatening diseases put millions at risk of blindness and low vision.
To address this problem, Lions have raised more than US$255 million to continue and expand the SightFirst project. With these funds, the program can continue its efforts to control and eliminate preventable causes of blindness, such as cataracts, trachoma and "river blindness.
SightFirst can also expand its reach to combat emerging threats to vision - such as diabetic retinopathy, uncorrected refractive errors and childhood blindness. And, for the first time, SightFirst will also support education and rehabilitation programmes for the blind and visually impaired, as well as vital public health research.
Strengthen eye care systems in underserved areas to enable them to combat blindness and vision loss and to assist the blind and visually impaired.
Lions lead SightFirst projects in collaboration with local health departments, eye care specialists and other non-governmental organizations. Lions are actively involved in project management, fundraising, coordination of awareness activities and publicity campaigns.
SightFirst finance le développement de systèmes de soins oculaires complets qui fournissent des services de prévention et de diagnostic et des traitements pour toutes les maladies oculaires pertinentes, ainsi que la réadaptation des personnes atteintes de cécité ou de déficience visuelle irréversible.
Complete ophthalmologic care
Uncorrected refractive errors
The successful cooperation of District 113 with the eye bank of the University Hospital Homburg/Saar
Numerous connections between the Lions Eye Bank of the University Hospital of Homburg/Saarland and Luxembourg have been developed. Initially, it was possible for the Lions Clubs Saar-Lor-Lux, Trier/Westpfalz, to finance and establish the cornea bank in 2000. In the course of the current expansion, the Lions have also contributed 100,000 euros to the further development of the Lions Eye Bank. According to the annual report of the eye clinic, 86 corneas were transplanted by Luxembourg donors in 2018, 37 were received from Luxembourg patients.
On 19 February 2019, the solemn opening of the brand new "Klaus Faber Centre for Corneal Diseases including the LIONS Saar-Lor-Lux Cornea Bank, Trier/Western Palatinate" took place at the Ophthalmology Department of the Saarland University Hospital in the presence of the President of the LIONS Clubs International Foundation, Dr. Naresh Aggarwal (New Delhi, India).
Lions SightFirst in the service of visually impaired people

For World Sight Day on 13 October 2022
For more than 30 years, the members of the international Lions movement have been working for the interests of the visually impaired. In addition to worldwide medical and humanitarian campaigns to combat blindness in developing countries, in recent years increased priority has been given to working with clinics and ophthalmologists, organisations and institutions at home and abroad to prevent blindness and improve the ability of young and old to see.
Among other things, the focus was on the financial support of 100,000 dollars for the expansion of the Lions Eye Bank of the University Eye Hospital Homburg in Saarland, as well as the recent financing of an incubator worth 2,500 € by the Escher Lions Club for the corneal harvests in the Hôpitaux Robert Schuman in Kirchberg. (see photo)
During a conference held by Prof. Dr. Berthold Seitz, it became known that in Luxembourg, corneas are harvested by specialised staff at the municipal Centre Hospitalier de Luxembourg (CHL), the Hôpitaux Robert Schuman (HRS) on Kirchberg, the Escher Centre Hospitalier Emile Mayrisch (CHEM) and, more recently, at the Centre Hospitalier du Nord (CHdN) in Ettelbruck, and then sent to Homburg for transplantation. Thus, in 2021, a total of 113 corneas were harvested in Luxembourg and 82 Luxembourg patients were successfully transplanted in Homburg, a steadily growing number of people whose vision could be restored.
On the occasion of this year's World Day of Sight, an appeal is made to our population's willingness to donate to consistently support this charitable action, either by informing family members of deceased people about the meaning and value of such tissue transplants, or by donating money to the Fondation Lions Luxembourg to support the specialised removal teams of our clinics under the account number LU68 1111 7048 0503 0000 with the reference " Don SightFirst ".
Nico BLEY
via mywort
Would you like to work with us or tell us about your project?